Pandemic/Changes in our services: in the operation of some Cafeterias and Ticket Offices (see Plan your visit). | Park of Pena: Lakes entrance temporarily closed (only available for exit)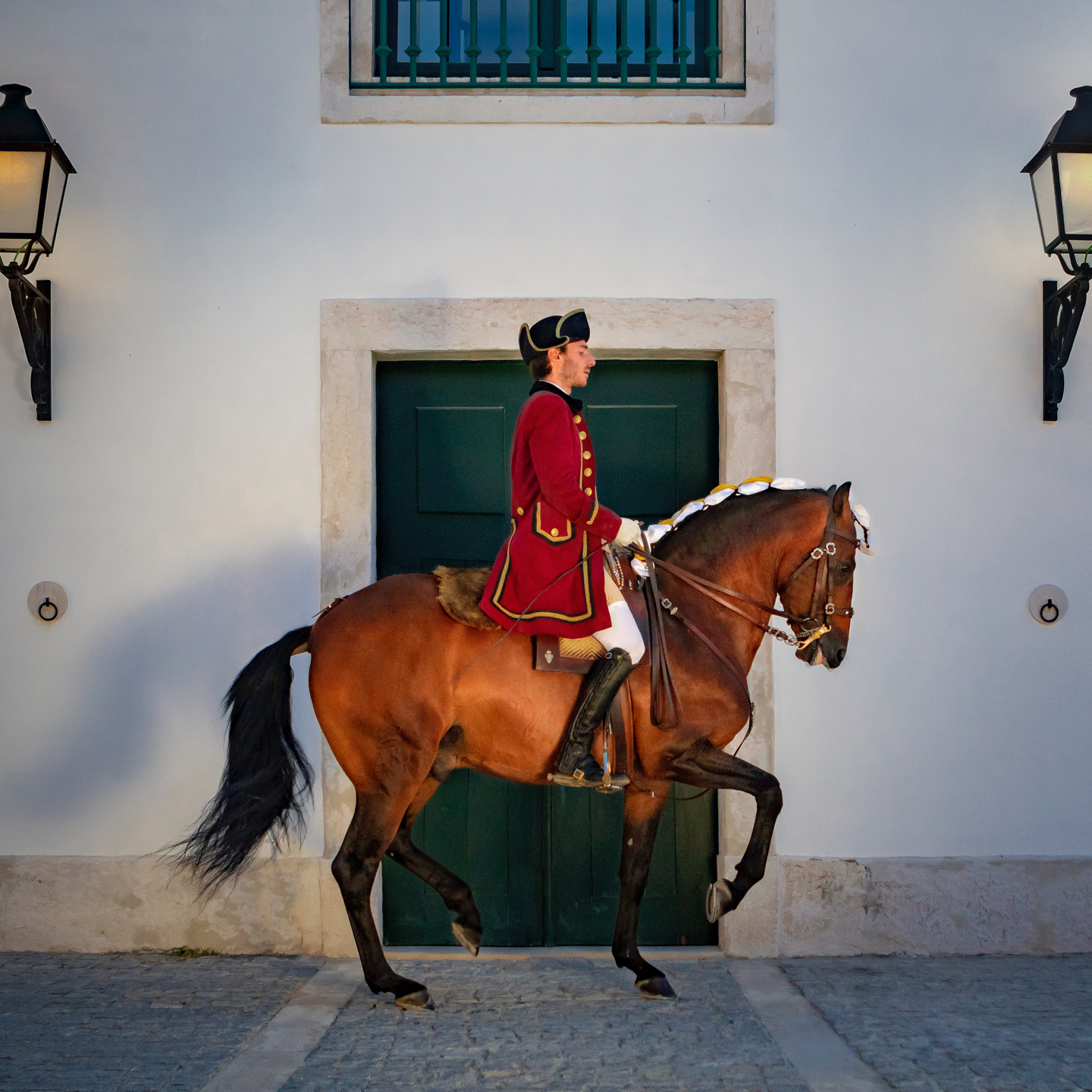 Reliving courtly times.
Intimately bound up with the traditions and customs of the 18th century Portuguese court, the Portuguese School of Equestrian Art provides a return to this past on a veritable journey through time at the pace of the elegant and precise "dance" of the thoroughbred Lusitano horses bred by the Coudelaria de Alter stud farm.
Headquartered in the Gardens of the National Palace of Queluz and with regular presentations in the Henrique Calado Riding Ring, on Calçada da Ajuda (Belém), the Portuguese School of Equestrian Art stands out as national heritage and endowed with the objective of promoting the teaching, practice and global dissemination of traditional Portuguese equestrian art, a unique cultural heritage.
Read the Full History
EQUESTRIAN ART MORNINGS
GALAS
Last Friday of the month: activities of preparation for the Gala in Páteo da Nora from 6:00pm; gala at the Henrique Calado Riding House at 7:00pm.
EQUESTRIAN ART MORNINGS
Audience | Ticket for adults (18 – 64 years)
Audience | Ticket for youths (6 – 17 years)
Audience | Ticket for seniors (over 65 years)
Audience | Family ticket (2 adults + 2 youths)
Adult Cabin (18 – 64 years)
Cabin for youths (6 – 17 years)
Senior Cabin (over 65 years)
Family Cabin (2 adults + 2 youths)
GALAS
Audience | Ticket for adults (18 – 64 years)
Audience | Ticket for youths (6 – 17 years)
Audience | Ticket for seniors (over 65 years)
Audience | Family ticket (2 adults + 2 youths)
Adult Cabin (18 – 64 years)
Cabin for youths (6 – 17 years)
Senior Cabin (over 65 years)
Family Cabin (2 adults + 2 youths)