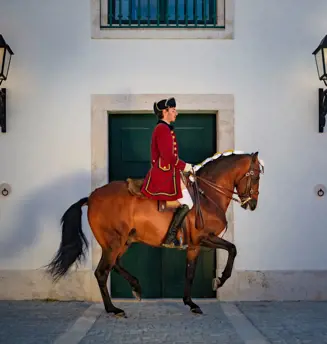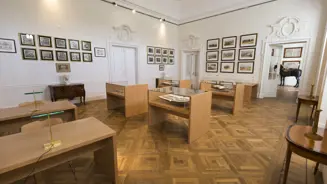 Installed in the National Palace of Queluz, the D. Diogo de Bragança Equestrian Library, named in honour of the 8th Marquis of Marialva, a distinguished rider and specialist in Equestrian Art, contains a highly significant number of works on this theme, including some of his own written works and is the only national library dedicated exclusively to this art.
The bibliographic collection, formerly the property of Diogo de Bragança, was acquired by Parques de Sintra – Monte da Lua, S.A. in 2014 with the objective of associating it with the Portuguese School of Equestrian Art and endowing the National Palace of Queluz with a library unique to Portugal in its genre.
Diogo de Bragança was born in 1930, in Grilo Palace in Lisbon, the city where he was to pass away in 2012. Dedicated to culture, he displayed an eclectic background. He graduated in law from the University of Lisbon and completed the general program in composing from the National Conservatory. Following in the footsteps of his ancestor, Pedro José de Menezes Noronha Coutinho, the 4th Marquis of Marialva, a Lieutenant-General in the Kingdom's Cavalry and a landmark personality in the history of Equestrian Art in Portugal, he also became a specialist practitioner in this field. Nuno de Oliveira, a leading expert in modern equestrianism in Portugal and internationally renowned, affirmed that Diogo de Bragança was one of his very best students and he considered him one of the rare riders able to approach the most difficult exercises in Equestrian Art with the greatest finesse.
He was also a farmer and livestock breeder and author of highly interesting works on equestrianism, essential to any deep knowledge of this art to which he dedicated his entire life and building up a notable collection in his private library, now available to the public.
The Library contains around one thousand five hundred printed and manuscript works, some of which are of great value and rarity with their dates of publication reaching back to between the 16th and 20th centuries.
Created out of the legacy of Diogo de Bragança, the Equestrian Art Library has also been enriched through new acquisitions and donations of specialist works.