The Mission of the Portuguese School of Equestrian Art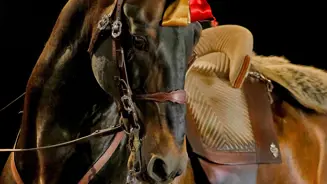 Founded in 1979 by a group of riders made up of students of Nuno Oliveira - Guilherme Borba, José de Athaíde, Filipe Figueiredo Graciosa and Francisco Cancella de Abreu –, with João Costa Ferreira, then the director of the National Stud Service, also playing a decisive role, the Portuguese School of Equestrian Art fosters the teaching, practice, preservation and promotion of traditional Portuguese Equestrian Art.
Interpreting this centuries old art, the School follows the model in effect at the Picaria Real – the equestrian academy of the Portuguese court in the 18th and early 19th centuries. The School replicates the mode of teaching the horses and their riders, the costumes, the saddles and the exercises. It was the Royal Riding Ring in Belém, constructed in the mid-18th century, that hosted the equestrian presentation made before the court both of Queen Maria I and her father King José I, son of João V – the Portuguese king of great wealth and splendour who founded the Alter Real Stud Farm in 1748 to supply the royal household and its equestrian academy.
Since September 2012, the Portuguese School of Equestrian Art has been managed by Parques de Sintra – Monte da Lua, S.A. (PSML). With its headquarters in the gardens of the National Palace of of Queluz, it is on Calçada da Ajuda – in the Henrique Calado Riding Ring, in Belém – where the public may today attend the School's regular presentations.
The School structure incorporates a full-time roster of riders including the Master-Chief-Rider, Riders, Assistant Riders and Candidates.
Since October 2018, the School has been run by Engineer Daniel Vaz Silva, and had as its first director José d'Atahyde from 1979 to 1981, followed in this position by: Guilherme Borba, from 1981 to 2000; Filipe Figueiredo (Graciosa), from 2000 to 2012; Teresa Abrantes, from 2012 to 2016; and the Cavalry Lieutenant-Colonel (reserve) Paulo Candoso, from 2016 to 2018.