Pandemic/Changes in our services: in the operation of the Cafeterias and of some Ticket Offices (see Plan your visit). | Park of Pena: Lakes entrance temporarily closed. | Access to Monserrate: recommended via Colares, due to road interventions.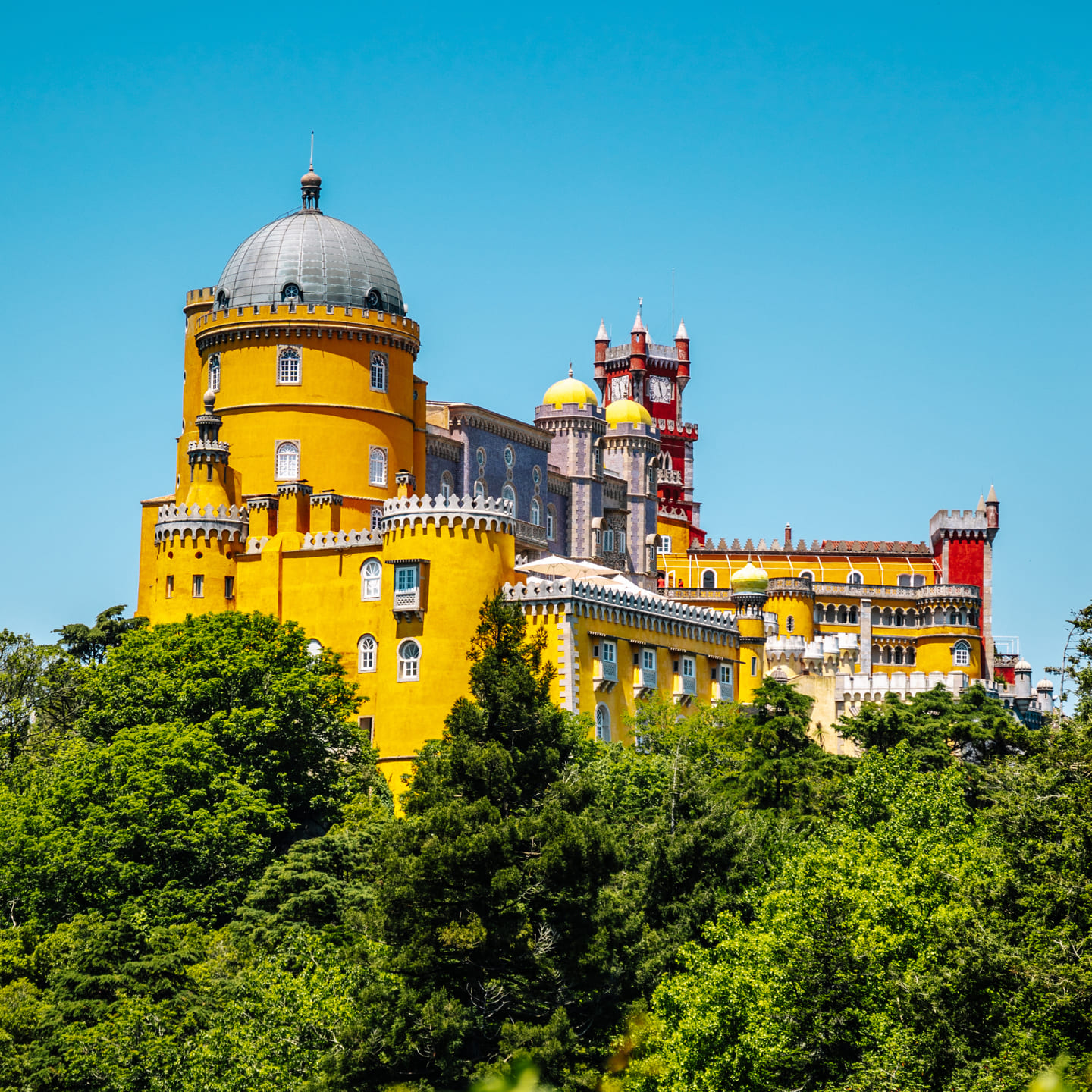 And there, far up above, the jewel of Sintra
The National Palace of Pena stands out as the renowned jewel in the crown of the Sintra Hills. The surrounding park, in close harmony with the magical character of the palace, triggers emotions of mystery and discovery. In its nooks and corners, our gaze gets lost amongst its charms.
The coloured tones of the palace, the pinnacle of Romanticism in Portugal and the eternal legacy of Ferdinand II, the King-Artist, opens the doors to the imagination of all those who cross its threshold, with the infinite shades of green painting the surrounding park establishing an idyllic scenario, frequently hidden under the veil of the mists that characterise the Sintra Hills. As if having stepped out of a fairy tale, this has been the place of dreams for all the generation who have passed here and gazed upon its magnificence.
Read the Full History
Tickets for the Park and National
Palace of Pena include:
PARK
LAST TICKET AND LAST ADMISSION 18H00
PALACE
LAST TICKET 17H30 AND LAST ADMISSION 18H00
PALACE AND PARK
Ticket for adults (18 – 64 years)
Ticket for youths (6 – 17 years)
Ticket for seniors (over 65 years)
Family ticket (2 adults + 2 youths)
PARK
Ticket for adults (18 – 64 years)
Ticket for youths (6 – 17 years)
Ticket for seniors (over 65 years)
Family ticket (2 adults + 2 youths)
PARK
LAST TICKET AND LAST ADMISSION 18H00
PARK
Ticket for adults (18 – 64 years)
Ticket for youths (6 – 17 years)
Ticket for seniors (over 65 years)
Family ticket (2 adults + 2 youths)
ITINERARIES
Explore our
Suggestions