The History of the Portuguese School of Equestrian Art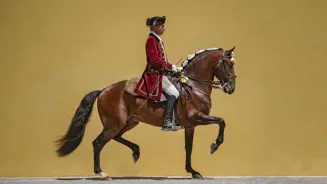 The history of the Portuguese School of Equestrian Art stretches back to the times of the Royal Stables, the equestrian academy of the 18th century Portuguese court, founded by King João V, housed and training in the Royal Stables of Belém (today the National Coach Museum).
In the 18th century, the Royal Stables were abolished even while their legacy never slipped into obscurity and today reflecting in the costumes and traditions that the Portuguese School of Equestrian Art maintains alive. The Lusitano horses from Coudelaria de Alter – the former Portuguese royal stud farm founded by King João V in 1748 –, the costumes, harnesses and accessories provide a centre point for such attentions. All such features are fully aligned with the traditions prevailing in the Royal Stables. The School has also recovered the exercises of Baroque equestrianism, such as the Airs Above the Ground, themselves in keeping with the techniques and orientations of the Spanish Riding School of Vienna, Austria, the only Renaissance period academy to have been continually in practice ever since its foundation.
Founded in 1979 by the Ministry of Agriculture, specifically by Guilherme Borba and João Costa Ferreira, through to 1996 the School operated in the facilities of the Portuguese Riding Society, located in Campo Grande. In that year, the Portuguese School of Equestrian Art took up residence in the fine Gardens of the National Palace of Queluz alongside the building of stables here.
In 2012, the management of the Portuguese School of Equestrian Art was entrusted to Parques de Sintra, which implemented improvements to its installations and to the conditions in effect both for the horses and for visitors while also renovating the Henrique Calado Riding Ring (on Calçada da Ajuda, in Belém). This ring has, ever since 2015, been the stage for School presentations and thus bringing about the return of this national art to the place of its origin: Belém. The Nora Patio, in front of the Henrique Calado Riding Ring, houses the stables and hosts the regular training sessions, was also subject to renovation and refurbishment.
The School carries out presentations, performances and training sessions in front of public audiences as well as also appearing at official ceremonies both in Portugal and internationally. This provides an important means of raising the profile of the Lusitano horse and especially of Portuguese equestrian culture and tradition.
In order to foster the study of this art and the regular training of riders, in 2015, Parques de Sintra established in the National Palace of Queluz the only national library dedicated exclusively to Equestrian Art. The "D. Diogo de Bragança, VIII Marquis of Marialva Equestrian Art Library" contains over 1,400 titles including many rare copies and editions.