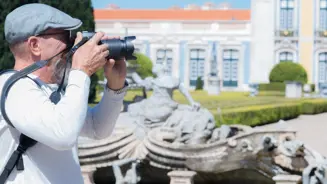 Press accreditation
The access to the sites managed by Parques de Sintra is free of charge for journalists depending on the presentation of the professional credentials. The access must be requested in advance through the email [email protected], referencing the date of the visit and, if applicable, the subject covered. We also require a copy of the professional credential (in attachment). The authorization to capture images is subject to prior analysis and the visit may be subject to the accompaniment of the company's technicians or specialized guides.
Image Recording
In the areas managed by Parques de Sintra, the capture of images with flash and tripod by media professionals is subject to prior authorization.
The utilisation of such pictures and footage is restricted exclusively to editorial purposes. Furthermore, under no circumstances may the media professional grant or sell such images to third parties with their commercial usage similarly prohibited.
Check our regulation for image recording.