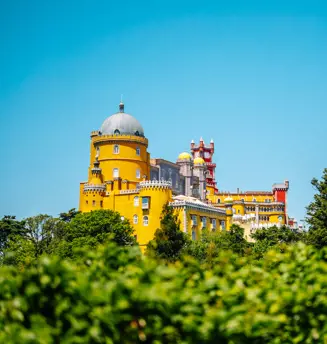 Valley of Lakes and Little Birds Fountain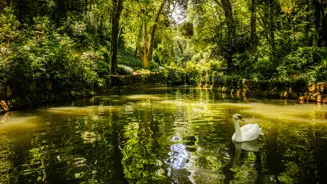 Entering by the imposing gate – in former times probably in a light horsedrawn carriage – the visitor follows a path that runs alongside five lakes connected by small waterfalls and arranged along a lush and gentle valley, accompanied by the sound of running water. Rising out of the water of the lakes there are two duck houses designed as shelters for waterfowl, whose architecture draws on the two most imposing buildings in King
Ferdinand II's demesne: the Moorish Castle, incorporated into the Park
of Pena as a romantic ruin, and the Palace of Pena itself that crowns the
whole ensemble.
The road that runs through the valley leads to the Little Birds Fountain, a small Neo-Mudéjar pavilion with a hexagonal floor plan, a vaulted dome and decorative tiling, whose effective acoustics amplify the sound of a little fountain of crystal-clear water
enclosed within it. The exterior of the dome is decorated with an inscription in Arabic
referring to the two monarchs responsible for the works at Pena: King Manuel I in 1503,
and King Ferdinand II in 1840, both of whom are referred to in the Arabic text as "sultans". The inner parapet of the dome is adorned with small figurines of birds, from which the building takes its name.