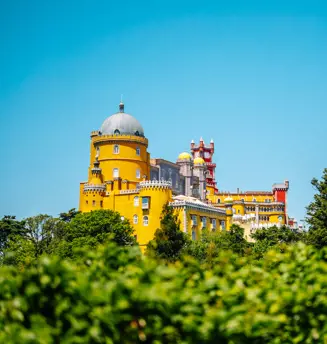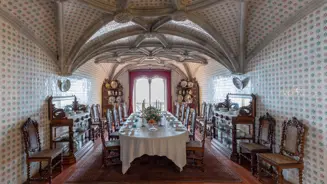 Ferdinand II adapted the former refectory of the convent and its 16th century Manueline vaulted ribbed ceiling into the private royal family Dining Room.
Worthy of note is the table, functionally adaptable to different daily needs, with its round smallest format but extendible so as to seat around 24 diners.
The table is set, exhibiting a set of plates from a porcelain dinner service that has been in the palace ever since monarchical times as well as crystal glasses in various colours and bearing the royal crown. The fruit bowls at the centre of the tables contain fruits and flowers of that period laid out in the same arrangements as used during the times of the Royal Family.
In the pantry cupboard, there are two of the (19th century) dinner services belonging to Ferdinand II, each bearing the king's monogram: one by Vista Alegre, with a green-blue border, and the other by Pickman, Seville, with a blue border. In the centre, the Limoges (Haviland) service, in white porcelain, was commissioned during the reign of Carlos I.