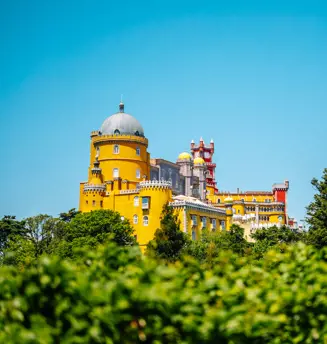 Temple of Columns, The Warrior Statue and The Queen's Table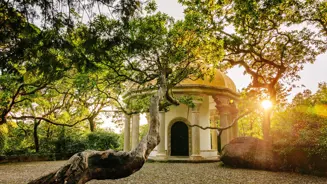 The Temple of Columns, with its yellow cupola held up by twelve columns, stands out among the treetops. This Neoclassical structure, with its circular layout, stands on the site of a former chapel dedicated to Saint Anthony, which shared the circular plan but which did not survive the 1755 earthquake.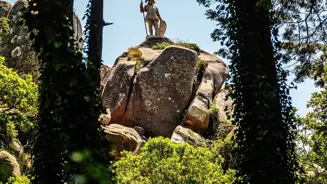 In the immediate vicinity of the Temple of Columns, there is the statue of the Warrior, the work of the sculptor Ernesto Rusconi, dated 1848, that stands guard over the lands of Pena. It might be a representation of Ferdinand II as the eternal guardian of his domain given that on the shield there is a caravel with its sails furled in an eventual allusion to this German prince having arrived in a safe haven and making Portugal his homeland.
At the feet of the Warrior, there is a small lake with an adjoining octagonal table that acquired the name of the Queen's Table as it was one of the favourite spots of Queen Amelia.