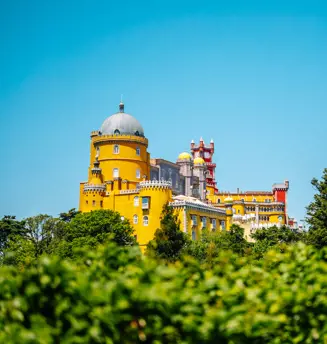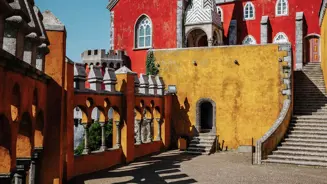 Through the arches that provide the name for this courtyard, we may observe a vast landscape looking out over the Atlantic Ocean and the Sintra Hills.
From this vantage point, we may also view the Park of Pena, planted by Ferdinand, who thereby transformed the rough landscape of the hills into a romantic park in the German fashion with trees brought in from all over the world.
Another highlight is the exuberant window above the Triton's Tunnel, a simplified version of the famous Manueline window in the Convent of Christ in Tomar, with which Ferdinand launched the Neo-Manueline style, the revivalist style par excellence in Portugal.
On the exterior, below the arches, we may make out the old Pilgrims Way along which the faithful would make their way from Sintra to attend mass in the Monastery of Pena church.