At the Moorish Castle dogs are welcome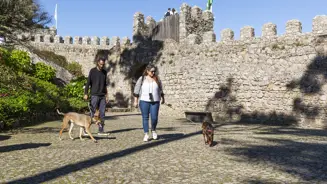 From October 4, 2022, World Animal Day, you can visit the Moorish Castle in the company of your dog.
For your best friend's comfort, at the Moorish Castle you will find water bowls and a dog parking area where he can wait for you while you visit the locations inacessible to him. There are also bag dispensers available for you to collect the waste that your dog may produce.
Before visiting the Moorish Castle with your dog, check the access rules and the map that shows where you can find all available equipment, as well as the areas which he cannot access, for the dogs' and everyone else's safety. Also download our digital brochure to keep the necessary information always at hand.
At the entrance to the Moorish Castle you will only need to collect the free access ticket for your dog and enjoy this monument in the best company!
Please respect the other users and comply with the following rules:
Always collect your dog's waste and deposit it in the available garbage bins.
Only one dog per person is allowed.
The permanence limit is 5 dogs at the same time. If the capacity is full, wait for your turn to enter with your dog.
The use of a non-extendable leash is mandatory.
For safety reasons, dogs are not allowed in some areas. Please respect the signage.
Dogs are only allowed on the paths.
Do not allow your dog to disturb other visitors or animals.
Only dogs with microchip are allowed.
The access of potentially dangerous dog breeds is allowed only when the dog is accompanied by a person over 16 years old, wears a muzzle and a short leash (up to 1 meter) and its owners present the corresponding permit.