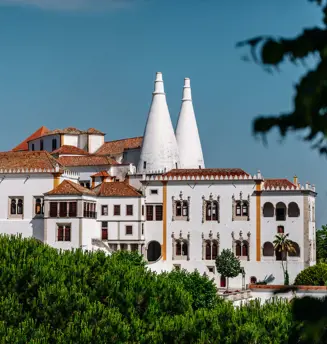 Central Patio and the Water Grotto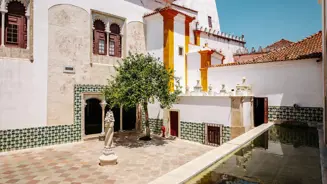 The Central Patio provides for circulation around the various sections of the palace of King João I and Queen Philippa without having to use any interior passageway. The upper floor of the palace, with its exterior displaying a 16th century mural painting, is accessed directly through the spiral staircase. At the centre, there is a water spout in the shape of a twisted column (16th century).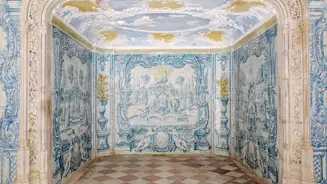 The highlight in this exterior area is the Water Grotto, a nook set back from the sun that enables enjoyment of the calm of the patio. The water spouts that emerge from minuscule holes in the wall endow it with a recreational dimension. Built at the end of the 15th century or in the early 16th century, the grotto was redecorated in the 18th century. The ceiling plasters are attributed to the workshop of Giovanni Grossi and display the Creation of the World (central composition), the Four Seasons (corners) and mythological themes.