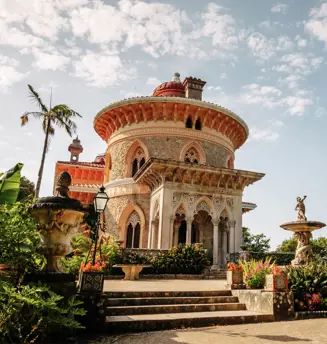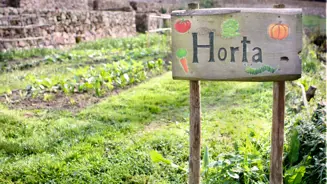 Covering an area of around two hectares, with indigenous trees and its own watercourse, the Farmyard of Monserrate recreates a small farm holding with areas given over to different types of crops and animals, as well as a renewable energy system that has rendered it entirely independent from the energy point of view. In times past, this was a small farm that served the Park and Palace of Monserrate, the adjoining property.
The former 19th century house provide facilities appropriate to hosting pedagogic activities, such as the work room with a salamander and a kitchen with a bread oven that enables the reproduction of a traditional kitchen environment in the atelier-workshops that also apply the farm's own products.
The crops include areas of orchard, vegetables, wild berries, cereals and aromatic plants. In the surroundings, there are fields for horses, donkeys and cattle and a poultry hut. The farmyard also has its own picnicking area, an open-air amphitheatre and a barn.
The watercourse that crosses the Farmyard is fed by the natural springs and water mines in the Monserrate Hunting Grounds and provides a privileged habitat for amphibians and aquatic animals. Furthermore, this also feeds a traditional irrigation system, of great pedagogic value given how it supports numerous different thematic approaches.
Discover other Points of Interest