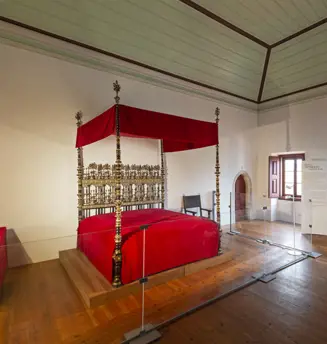 This is one of the rooms in the palace whose original function is unknown.
Possibly built in the 15th century.
Today, this is where a 17th-century state bed that belonged to the Dukes of Cadaval stands.
Discover the objects on display in this room.
State Bed
Portugal (?), 2nd half 17th century
Ebony, rosewood, angelim, silver and copper
Inv. No. PNS6207
This bed is one of the most emblematic pieces in the National Palace of Sintra and was acquired by Parques de Sintra in 2016. It is the only 17th-century state bed existing in the country. It acted as a symbol of the status and power of its owner and would have stood in a part of the palace with restricted access. A similar bed was used to display the body of King Afonso VI (1643–1683) in public after his death at the Palace in 1683.