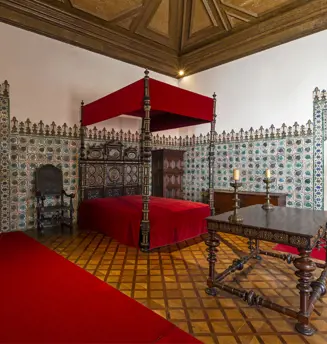 The third room in the palace of King João I and Queen Philippa of Lancaster.
This is where the sovereign could receive people of higher social status, a habit adopted by Queen Catarina of Austria (1507–1578). The king could also sleep here on the bed surrounded by his servants or a closer family member, who would sleep on the ground. This is how King Sebastião (1554–1578) used the room.
In the 15th and 16th centuries, it was covered in gold, but this decoration has been lost. In the 19th century, it was used as a dining room.
Discover the objects on display in this room.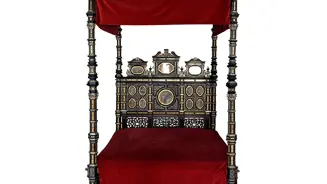 State Bed
Italy (?), 17th-18th century
Wood (chestnut and ebony), silvered brass, oil on copper, glass and fabric
Inv. No. PNS3058
This Italian-inspired bed was a central item of state when receiving important people. Made in the 17th–early-18th century, it has a headboard decorated with medallions displaying mythological scenes. At the top, in silver-plated brass, stands the coat of arms of the former owners, the Counts of Sabugal. It was installed here in the 20th century.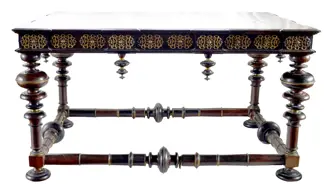 Buffet table
Portugal, 17th-18th century
Rosewood and metal
Inv. No. PNS3094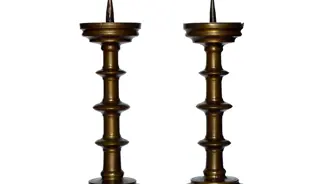 Candlesticks
Italy, Venice, 15th-16th century
Copper and iron
Inv. No. PNS6186/PNS6187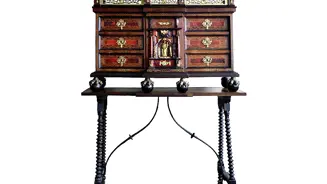 Cabinet
Spain (?), 17th-18th century
wood, tortoiseshell, copper
Inv. No. PNS2933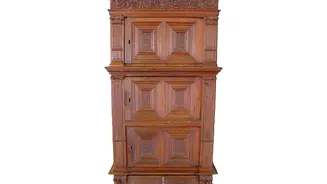 Wardrobe
Holland, 1624
Oak and metal
Inv. No. PNS3107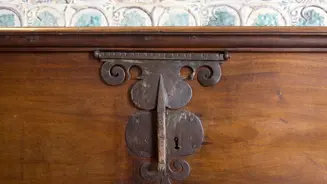 Chest
Portugal, 18th century
Wood and iron
Inv. No. PNS3042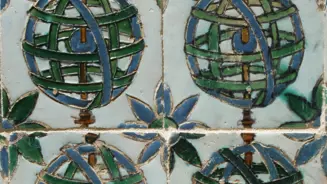 Tiles with Armillary Sphere
These tiles are found exclusively in the National Palace of Sintra, in the Gold Chamber and Grotesque and Lion Patios. They feature the armillary sphere, the emblem of King Manuel I (1495–1521), and were commissioned by the king in 1508–1509 from the workshop of Fernand Martínes Guijarro and Pedro de Herrera, his son, ceramicists from Seville.