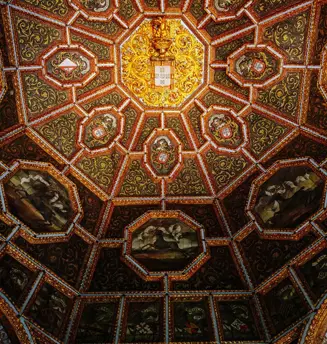 This square room (each side measuring 12m) occupies the entire piano nobile of the tower built by King Manuel I in the 16th century. The octagonal dome (1517–1518) contains the blazons of the families of Portuguese nobility with the royal coat of arms at the top. The walls were clad in tiles showing scenes of gallantry in the 18th century.
Discover the objects on display in this room.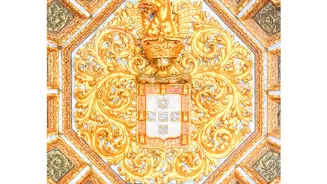 Coat of Arms of King Manuel I
The coat of arms of Manuel I (1469–1521), as king of Portugal, is shown at the centre and top of the social hierarchy. Around it are the coats of arms of the eight sons and daughters the king had with Queen Maria of Aragon (1482–1517) prior to 1515.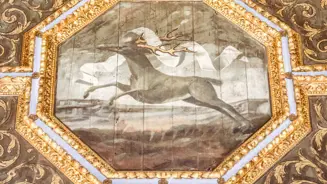 Stag
The stag on the room's ceiling is a symbol of justice. On the ribbon, now erased, could be read the motto of King Duarte (1391–1438), the grandfather of Manuel I (1469–1521): "Tan ya serey".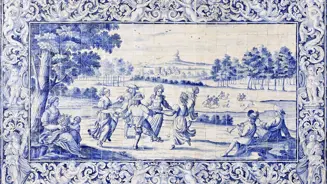 Tiles
Painted between 1710 and 1715 by the artist known as Master P.M.P., the initials he used to sign his works, these tile panels show stag- and bear-hunting scenes, along with others of nobles in outdoor scenes. The depiction of leisure moments was one of the favoured themes used to enrich the country homes of the 18th-century nobility.