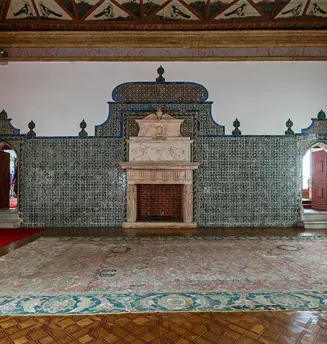 The second room in the palace of King João I and Queen Philippa of Lancaster.
This was probably the room most commonly used for royal audiences. The only furniture would have been that necessary to mark the king's majesty: a dais or rug, a chair and a canopy.
Royal audiences lost their importance in the 19th century and thereafter this room was used for banquets.
Discover the objects on display in this room.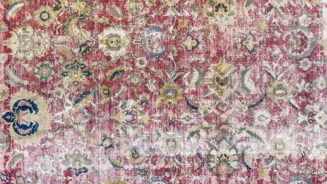 Carpet
Persia, Herat, 16th-17th century
Cotton and wool
This huge carpet was produced in the 16–17th century in what is now Iran, from where the most luxurious carpets came. It was used to mark the area of regal majesty in rooms where the king or queen held audience. Stepping onto the carpet signified coming into closer contact with those at the top of the social hierarchy.
Inv. No. PNS3570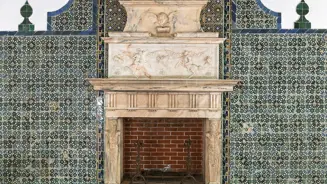 Fireplace
The marble fireplace was given to King Manuel I (1495–1521) by Pope Leo X in 1515. It originally stood in the now defunct Palace of Almeirim and was installed in the Magpies Room in 1898 when it was used as a banquet room.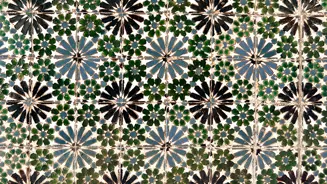 Tiles
The walls are clad in tiles made using the cuerda-seca ("dry string") technique in the early 16th century in Seville. The name derives from the manner in which lines were imprinted on the tile with a string soaked in linseed oil to avoid the colours merging when baked.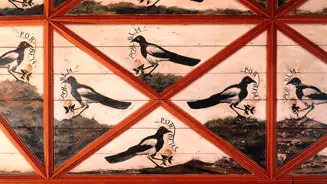 Ceiling
This ceiling painting, which is considered the oldest in the Palace, gives this room its name. It includes 136 magpies with the motto of King João I (1385–1433), "Willingly", and a rose, possibly alluding to the English House of Lancaster, to which Queen Philippa (1360–1415) belonged.