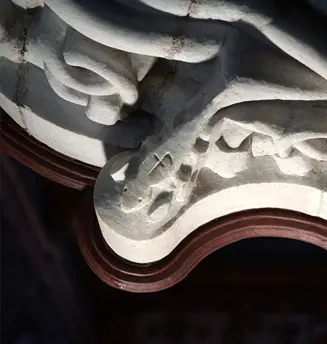 This corridor connects buildings constructed in different periods. Behind lie the palaces of King João I and Philippa of Lancaster (15th century) and of King João III (16th century). To the left is the Blazons Hall (16th century). To the right is the entrance to the old palace of King Dinis and Isabel of Aragon (13th century), the oldest section of the entire building.
Discover the objects on display in this room.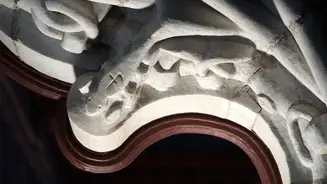 Doorway
This portal leads to the Heraldic Hall. There are visible stonemason marks identifying who did the work and how much of it. One of the marks may belong to Master Pêro (Pedro) Anes, who we know produced work for Manuel I (1469–1521) in the early 16th century.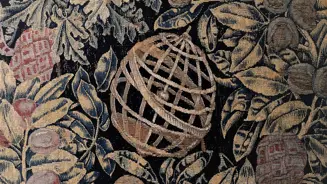 Tapestry with the Portuguese Royal Coat of Arms
Brussels, Belgium, late 15th century
Cotton, wool and silk
Inv. No. PNS3556
This important piece shows the royal arms of Portugal in the centre and armillary spheres in the corners. It was made in the main 15th–16th-century centre of Flemish tapestry production and is one of the rare examples of tapestries with Portuguese coats of arms. Its origins are unknown but may have been commissioned by King Manuel (1469–1521) before he was crowned in 1495.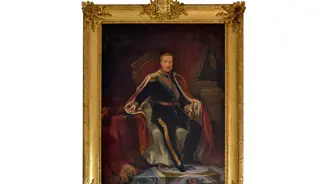 Portrait of the King Luís
Manuel Tomás da Fonseca
Portugal, 1863
Oil on canvas
Inv. No. PNS3611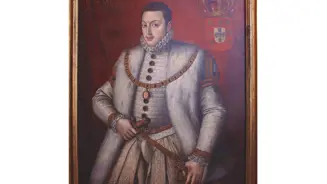 Prince Carlos of Habsburg
Alonso Sánchez Coello and/or workshop
Spain, c.1565
Oil on canvas
Inv. No. PNS3641
This portrait of Prince Carlos (1545–1568), son of King Filipe II of Spain (1527–1598), is a copy of a famous portrait by Sofonisba Anguissola (1535–1625). It was modified to add the Portuguese escutcheon and motto and the chain pendant was altered to identify the subject as King Sebastião of Portugal (1554–1578).