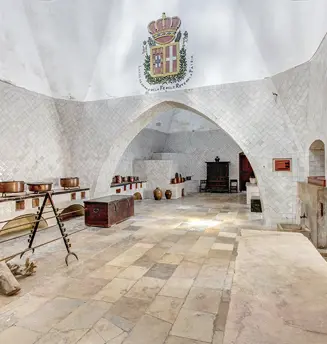 The monumental kitchen was built by King João I to serve the entire palace. Its size was justified on the grounds that the court comprised several hundred people. As Sintra was a place where royal hunts were held, this is where the game was prepared for the banquets.
The two iconic chimneys measuring 33 metres in height have become the symbol of Sintra.
The kitchen is divided by a large pointed arch. This and the thick walls support the chimneys. On one of these walls can be seen the coat of arms of Queen Maria Pia. Lined up against the wall at the back are the hearths and two ovens; at the entrance can be seen a metal warmer to keep the food hot.
Discover the objects on display in this room.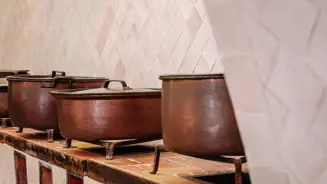 Kitchenware (21 pieces)
Portugal, 19th century
Copper and iron
Pans, fish pans, pots, casseroles, frying pans and water jug.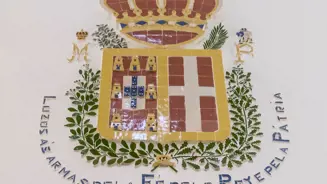 Coat of Arms of Queen Maria Pia
The coat of arms of the last queen to inhabit the Palace, Maria Pia (1847–1911), was placed here in 1895. It shows the royal arms of Portugal and Savoy. The white tiles on the wall also date from her reign.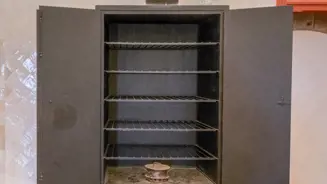 "Hot Plate"
Portugal, 18th century
Iron
Inv. No. PNS3509
An iron warmer that was used to keep food hot after preparation and before being served.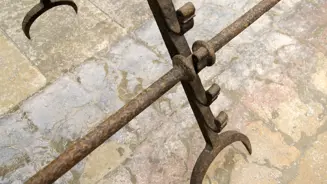 Roasting spits
Portugal, 18th century
Iron
Inv. No. PNS3508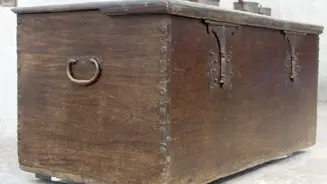 Chest
India, Cochin, 16th-17th century
Exotic wood (angelim), iron and gilded metal
Inv. No. PNS2971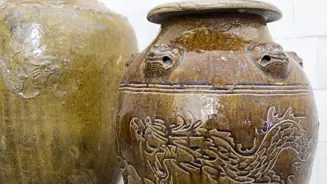 Martaban Jar
China, Ming dynasty, 17th century
Sandstone
Inv. No. PNS31 and PNS32