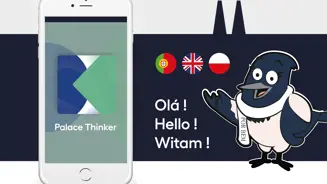 Coordinated by ByAR, the Palace Thinker app-game was developed within the scope of the project "Between Mnemosyne and Terpsychore - Heritage Sites and Contemporary Dance for the promotion of critical thinking among pupils", with the goal of being a tool for cultural mediation that stimulates the development of reasoning skills in student-users.
The application comprises a set of five challenges, each dedicated to the five main themes of the project: Nature, Power, Memory, Body and Senses, which are to be played in five spaces of each palace. Each challenge consists of an activity that involves interaction with the building that uses augmented or virtual reality to identify concrete elements within the space, to analyse aspects of the building's functioning, and to determine the role the palace has had on the surrounding territory. Each challenge ends with a question for group discussion or individual reflection.
To make the most of the pedagogical potential of this app, a mediator version has also been developed so that teachers who wish to bring students to the palaces can themselves mediate the content and guide debate on the various themes.
The app was also conceived as a mediation tool to visit the palaces of Sintra and Wilanów simultaneously, by which user can use augmented reality to go from one palace to another by opening a portal in the room where they are located. Dance is also part of this application, either to direct students to the places where they can play the challenges, or as a central part of the challenge "Senses", the activity for which involves identifying the five senses in performances by students from the project and recordings of which are part of the game.
The app is available in Portuguese, Polish and English.
Project Erasmus+
Learn more about other results of this project