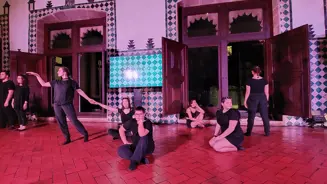 In April and May 2022, two dance performances by two groups of students involved in the project "Between Mnemosyne and Terpsychore - Heritage Sites and Contemporary Dance for the promotion of critical thinking among pupils" took place in the National Palace of Sintra and in the Palace-Museum of King Jan III in Wilanów.
In these performances, students had the opportunity to present the results of their work throughout a year in the various workshops held with the MeetShareDance Association. This was also a moment in which the students were able to explore the relationship of their bodies with the spaces of the palaces while in the presence of an audience.
Developed specifically for each palace and according to the work of each group of students, the performances demonstrated how heritage organisations can work creatively towards inclusive education. Bodies and voices can activate the palace space, often seen as hermetic, authoritarian and distant. The performances demonstrated that dance can break through this perspective and change the experience of heritage by opening the doors of the palaces to younger generations.
Taking advantage of the various concepts that structure the whole project, such as Power, Body and Senses, students presented their own interpretation of heritage through choreographies developed by themselves under the guidance of MeetShareDance. The result demonstrates how alternative and different interpretations of the museum are equally valid, proving the possibility of a more diverse approach to history and heritage.
Project Erasmus+
Learn more about other results of this project