Sintra: 4 wonderful places that don't appear on Instagram
For many, life is lived online: the best looks are shown in the feed, the best dishes in stories, the most beautiful landscapes in reels. If it's not on social media, it's because it didn't happen.
But that's not really the case: there are stunning places in Sintra that don't appear on Instagram all the time. Here are four suggestions for must-see places (and which, in fact, also make unbelievable photographs).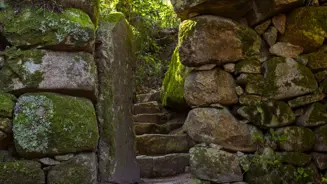 Forest around the Convent of the Capuchos:
Here you can experience the true magic of the Sintra Mountains. In this small forest, you can find a rare example of the primeval forest of the mountains, with old oaks, cork trees, holly, tree-sized boxwoods, strawberry trees, chestnut trees, hazel trees, and many other native species. You will also find the hermitages of Ecce Homo and of the Crucifixion, as well as a viewpoint from which you can contemplate the mountains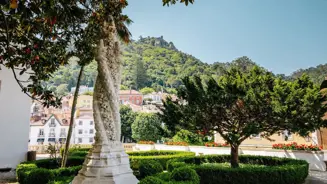 Preta Garden, at the National Palace of Sintra:
Have you heard about this garden? Its name, 'Black Garden' in English, is derived from a painted composition representing a black washerwoman, accompanied by a male figure in a red livery. Names aside, here you can rest, take good pictures and enjoy the historic centre of Sintra in peace. And, of course, if you look up, you'll see the imposing Moorish Castle at the top of the mountains.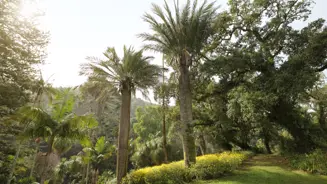 Mexican Garden, in the Park of Monserrate:
When photos of Monserrate Park appear on social media, we (almost) always see images of the large lawn, the ruins or Beckford's waterfall, but there are many other stunning corners! The Mexican Garden is the only south-facing slope in the park, and you can find many exotic species from dry climates, ponds and lakes, one of which forms the 'border' with the lawn. There is so much scenery here that it's possible to make an inspiring reel in this area of the Park.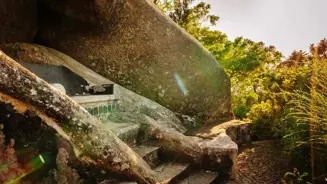 St. Catherine's Heights, in the Park of Pena:
It's in this area of the park that we find a viewpoint with one of the most beautiful views over the Pena Palace. There is a seat here carved into the rock, coated with tar (a substance that was quite the novelty in the 17th century) and decorated with tiles. Known as the Queen's Throne, because it was one of the favourite places of Queen Amélia, it was where she painted one of her best known watercolours of the Pena Palace. It's the perfect place to rest, charge your batteries, enjoy the view and, of course, take amazing pictures.