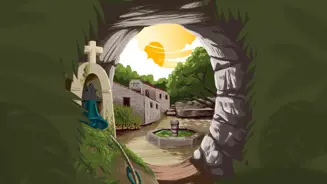 Take part in a Monumental Egg Hunt!

This Easter, we thought of a different Egg Hunt, leads to the discovery of some of the most beautiful monuments of Sintra, to make the best of Spring time. 

We hid 4 eggs in the following monuments:
National Palace of Queluz
National Palace of Sintra
Park and Palace of Monserrate
Convent of the Capuchos

All you have to do is discover the eggs hidden in 3 of these monuments and photograph yourself next to each of them.
By showing these 3 photos at the ticket office of the fourth monument, you will receive a free entry ticket!
Conditions
The photographs must clearly show the person depicted and the egg found in each of the 3 monuments visited.
To obtain the free ticket at the ticket office of the 4th monument, you must present: the 3 photographs described above and an identification document.
Offer valid for 1 ticket per person.
The Easter Egg Hunt is valid from 1st to 17th of April 2022.
Buy the tickets online simultaneously
When purchasing tickets online for the 3 monuments at the same time, you benefit from the following discounts: 5% for online purchases + 6% for the purchase of combined tickets.
SPECIAL EASTER OFFER
Discover other experiences that offer you an Easter out of the shell