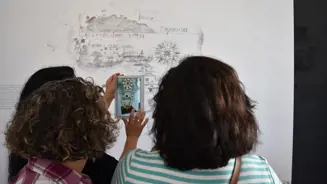 byAR designs digital environments for exhibitions, museums and tourist sites that need to tell a story or provide a unique experience to the visitors. Most of the digital environments designed by byAR, are based on augmented reality, virtual reality, interactive video mapping and mobile apps. Because the technology itself doesn't tell any stories, byAR also produces the contents, resorting to 2D and 3D animation, video edition, motion graphics, illustration, 360º video and graphics design.
byAR's portfolio encompasses several temporary exhibitions, such as: "40 anos da Constituição Portuguesa" for the Portuguese Parliament; "40 anos da Universidade do Algarve" for the Algarve University; the "Crianças entre Crianças" exhibition for the Ourém city hall. Within its portfolio are also several permanent exhibitions, such as: "Slave Market" for the Lagos city hall; "Museu do Côa, a museum about Rock Art in Côa", managed by the Côa Parque Foundation; "Ernesto Korrodi" exhibition for the Leiria city hall;
The intellectual output of this project will be a digital solution that provides students and teachers with a tool to experience and learn about Palaces in a different way. This will require the development of an App using augmented reality technology and 360º technology. byAR is specialized in the development of augmented and virtual reality projects and in producing 360º content, which are the basic requirements of this project.
Erasmus+
Learn more about the other partners