On arrival
There is a disabled persons car parking space available.
The majority of members of staff have undergone basic Portuguese Sign Language training and hence contact may be made through this means on arrival at the ticket office.
Enjoyment
Manual, folding wheelchairs are available following their due reservation.
New traction equipment suitable for the majority of manual wheelchairs is also available through reservation, which ensures lesser effort is required and greater speed of travel along the aforementioned pathway.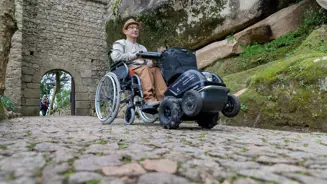 Should the equipment not be pre-reserved, the visitor is subject to its respective availability. The assembly time for visitor manual wheelchairs takes around 20 minutes. Visitors may make usage of the equipment throughout 90 minutes with a 15 minute allowance period before returning it to the site agreed.
The route leading through the inner sections of the Moorish Castle walls is accessible to persons with physical mobility restrictions whilst requiring particular attention to steeply sloping areas with traction equipment correspondingly recommended.
Prior to reaching the first line of castle walls, visitors may access the Moorish Castle Church, a new exhibition space accessible to those facing mobility restrictions via a vertical lifting platform. Please check with a Parques de Sintra member of staff who will provide the indications necessary. The facilities otherwise in effect are also all designed with wheelchair visitors in mind.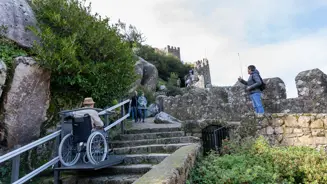 Inside the monument, any visitor may thus go into the store and the cafeteria as well as the WC facilities located in the immediate vicinity.
The heights of the wall are now accessible via the placing of a lifting platform that ensures visitors in wheelchairs may reach the upper extent of the Castle walls and their views out over Sintra and its surrounding hills.