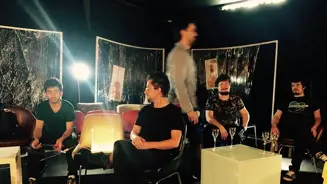 New
André Fernandes is a complete musician, whether as a guitarist, improviser or composer, and his projects never cease to amaze. An irreverent musician, in 'Dianho' he presents a musical universe with multiple influences ranging from rock to the most contemporary jazz styles. The contributions of José Pedro Coelho and João Mortágua (saxophones), Francisco Brito (double bass) and João Pereira (drums) transform this group into an electrifying explosion of musical creativity.
PEDRO MOREIRA | CLAVE NA MÃO
Program
Maria Gancha
Homem das Sete Dentaduras
Tardo
Aventesmas
Velha da Égua Branca
Trasgos
Bicha-Serpe
Dragão
All themes are by André Fernandes.
About the program
In my early teens, there were two bands that reconciled my dual love of rock, which I was discovering with friends (hello, Rui and Bebita, where are you?), and jazz, which my father used to give me to listen to. Blood, Sweat & Tears and Chicago had combined what I loved most in the same songs: distorted guitars and compact blocks of wind instruments. When I listen to André Fernandes' Centauri I remember those times and realise that I'm still the same person after all these years.
So, on the first track of this new album, I instantly surrender: the saxophones of José Pedro Coelho and João Mortágua and the electric six-string of Fernandes continue this tradition in 'Maria Gancha' and return to it, several times, throughout 'Dianho'. It's a winner, right from the start. The compositional riffs of the guitarist and band leader do the rest, from the jazzy, more formalist 'Homem das Sete Dentaduras' to the extravagant (in the sense that it takes us down paths not guessable moments before) 'Velha da Égua Branca', passing through the rural vaudeville blues of 'Tardo', a piece that functions as a mediator between the familiar and the unexpected.
If that's my personal and exclusive appreciation for this record, there's something else that emerges, deliberately, from the outset, and which is completed by Francisco Brito's double bass and João Pereira's drums: this new work by André Fernandes is inspired by the pagan imagery that still survives in some regions of Portugal, especially Terras de Miranda, celebrated in the winter solstice rituals, for example.
The demons and devilish wraiths of Portuguese ancestry survive in this music, therefore, even if we find little more that is specifically Lusitanian in these tracks (listen, for example, to the lively and entertaining 'Trasgos'). The CD's final offering, 'Bicha-Serpe', begins with a melancholy that is all too familiar to us, but it turns into an anthem, with all those epic qualities that an anthem possesses. For all intents and purposes, what has a ritual always been in our Celtiberian culture, if not an exorcism?
RUI EDUARDO PAES - Music writer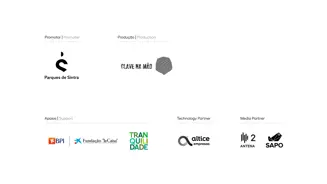 Monserrate Tea House
Open on concert days, from 6.30 pm to 8.30 pm.
Jazz at Monserrate
More concerts within this cycle