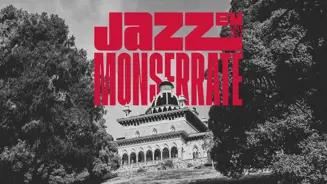 6 DAYS
3 STAGES
44 ARTISTS
The second edition of the Festival Jazz at Monserrate is here.
In bringing together a place of contemplation and dazzling with a programme of the highest quality, the Festival has come to fill a gap, a meeting point for different generations, conviviality, experimentation, egalitarianism and for fusion of different forms of artistic expression, always around a musical style which, from its inception, has been the sum of all this: Jazz.
It is an experience which offers direct contact with nature, the smell of the earth, the singing of birds and with silence, such a precious commodity nowadays.
The Gardens of Monserrate will thus once again be the stage of a Festival that was born from a desire to elevate Portuguese music and culture, an invitation for the public to sit on the ground, take off their shoes and feel their feet on the grass while listening to a concert in the company of parents, children, grandparents and friends, and with a smile to the stranger next to them.
This year, we wanted to go beyond music, beyond the evenings and beyond the duration of the Festival, seeking to reach more people and more artists from all corners of the country: decentralising to unite.
Notice (update on 7 September)
Due to the forecast of a high probability of precipitation on the 8th and 9th of September, the concerts scheduled for the first weekend of the Jazz at Monserrate Festival were cancelled as the necessary comfort and safety conditions are not met. Learn more about ticket refunds here.
PROGRAMME JAZZ AT MONSERRATE 2023
8 September
7.30 pm | Lake Stage | Zé Eduardo Unit - Jazzing in Portuguese Cinema
9 September
4 pm | Lake Stage | Nomad Nenufar
6 pm | Lake Stage | Hot Clube Portugal Sextet - Concert with Commentary
9 pm | Lake Stage | Filipe Melo and João Pereira with Beatriz Batarda - "La Jetée", by Chris Marker (Film set to Music)
10 September
11 am | Lake Stage | Nuno Cintrão - Improvising is how people understand one another (Concert/Performance for families)
4 pm | Terrace Stage | Guarda-Rios
9 pm | Lake Stage | Nuno Costa e Óscar Graça- "I don't want to be a man", by Ernst Lubitsch (Film set to music)
15 September
7.30 pm | Chinese Cedar Stage | Filipe Raposo and Rita Maria - The Art of Song vol. 1 – When Baroque Meets Jazz
16 September
4 pm | Terrace Stage | Pedro Freitas - Poezz (Spokenword)
7.30 pm | Chinese Cedar Stage | Maria João and Carlos Bica Quarteto
17 September
11 am | Chinese Cedar Stage | O Jazz is Cool - Concert for children
4 pm | Chinese Cedar Stage | Adolfo Luxúria Canibal and Carlos Barretto - Looking into the abyss without letting it win
7.30 pm | Chinese Cedar Stage | Bernardo Moreira Sextet and Cristina Branco - Entre Paredes
Learn more about the concerts