Family workshops at the Convent of the Capuchos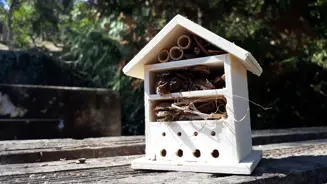 The Franciscan friars who lived at the Convent of the Capuchos for around three centuries lived in the utmost harmony with nature, respecting the plants and animals with which they shared this magical corner of the Sintra Hills, regarding it as the work of the Creator. In this activity, families will learn about ways to protect and assist nature, creating insect shelters and bird feeders.
The presence of insects in gardens increases biodiversity, attracting birds, amphibians and bats and contributing to pollination and pest control for plants. The 'bug hotels' that participants will make from natural or reused materials will thus provide shelters for these tiny animals and can be used to decorate gardens or even small spaces such as balconies.
Providing food such as grains and seeds is a way of attracting and encouraging birds to come to our gardens, balconies or windowsills, allowing us to admire their colours and song. Using very simple materials, objects with no other use, and suitable food we can find at home, we will also construct feeders that offer a real feast to the bird population.
Accessibility
Route with accessibility restrictions, uneven surfaces and access by stairs. Comfortable footwear suitable for walking recommended.