This Christmas be part of History - Exclusive Visit and Brunch at the National Palace of Pena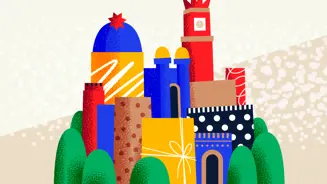 This Christmas, give your loved ones the oportunity to visit the Palace of Pena all by themselves. 
This voucher includes an exclusive visite for two to the National Palace of Pena, before its opening hour. In addition to having the monument only to themselves, visitors will enjoy a contextualized visit to the interior of the palace.
Besides the visit, this offer also includes a brunch at the restaurant of the palace. It includes scone, croissant, three types of bread, toast, cheese, ham, butter, jam, granola or muesli, quiche, homemade cake, queijadas de Sintra (traditional pastry), fruit, sparkling or still water, fruit juice, galão (hot drink made with espresso and milk) or tea, coffee.
Purchase and validity of vouchers
The purchase of this voucher is made exclusively online, until January 15th, and it is valid for one year.