On Arrival
The Park of Monserrate provides two car parking spaces for persons with mobility restrictions.
The majority of members of staff have undergone basic Portuguese Sign Language training and hence contact may be made through this means on arrival at the ticket office.
The Picnic Park next to the car park has recently undergone renovation.
Enjoying the Park
Manual, folding wheelchairs are available following their due reservation.
New traction equipment suitable for the majority of manual wheelchairs is also available through reservation and ensures lesser effort is required and greater speed of travel along the aforementioned pathway.
There are only a limited number of such mobility devices and hence prior reservations is strongly recommended. Should the equipment not be pre-reserved, the visitor is subject to its respective availability. The assembly time for visitor manual wheelchairs takes around 20 minutes. Visitors may make usage of the equipment throughout 90 minutes with a 15 minute allowance period before returning it to the site agreed.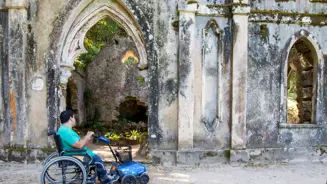 There is a ramped route as from the entranceway as far as the Palace with particular attention needed for steeply sloping sections. We would recommend that this is only attempted with an assistant.
Guided tours may be requested with any special visitor needs indicated on making the respective reservations.
The recently refurbished and now accessible cafeteria and store also include disabled person friendly WC facilities.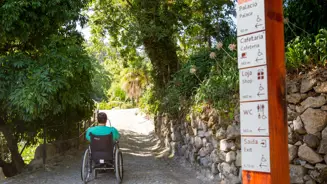 Palace of Monserrate
Manual, folding wheelchairs are available following their due reservation.
The Palace entrance is accessible via a ramp and opening up the extent of the ground floor to visitors. However, there is no access to either the second floor or the kitchen to persons with mobility restrictions.
The Palace interior features a three dimensional scale model of the Palace that visitors may touch and discover more about the building's layout.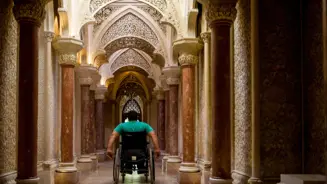 Accessible WCs on the interior.
Distances
Entrance to the Park – Palace of Monserrate
– Shortest route (non-inclusive due to presence of stairways) – 260 metres
– Route recommended to persons with mobility restrictions – 360 metres
Download visit map