Palace and Gardens of Queluz
On Arrival
The Palace of Queluz provides a reserved parking space for persons with disabilities, identified by vertical signs next to the Palace entranceway. We would warn to the presence of the basalt cobblestone surface around the Palace entranceway with their irregularities nevertheless only hindering but not preventing autonomous mobility.
The majority of members of staff have undergone basic Portuguese Sign Language training and hence contact may be made through this means on arrival at the ticket office.
Independent access may be made to the ticket office via the respective ramps.
Manual, folding wheelchairs are available following their due reservation.
Palace of Queluz

Inside the Palace is available a three-dimensional model of the monument, in which visitors can touch and get to know the volumetry of the building.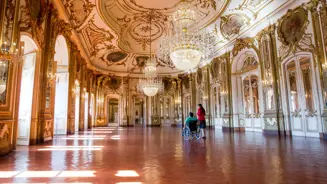 The interior of the Palace is fully accessible. Access to the upper gardens (Hanging Garden and Malta Garden) is also possible via a ramp.
New traction equipment suitable for the majority of manual wheelchairs is also available through reservation and ensures lesser effort is required and greater speed of travel along the aforementioned pathway. For further details, please consult the webpage detailing the technical features of this equipment.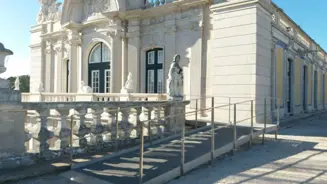 Should the equipment not be pre-reserved, the visitor is subject to its respective availability. The assembly time for visitor manual wheelchairs takes around 20 minutes. Visitors may make usage of the equipment throughout 90 minutes with a 15 minute allowance period before returning it to the site agreed.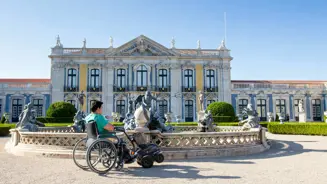 The traction vehicle may only be used outside the Palace due to issues relating to safeguarding and protecting the museum's content. This equipment provides for greater mobility over the gravel surfaces.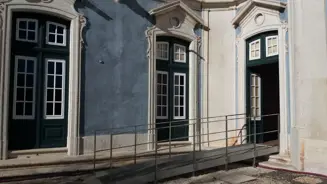 Guided tours may be requested with any special visitor needs indicated on making the respective reservations.