The History of Convento of the Capuchos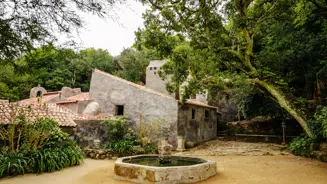 Also known as the Convent of Cork, the construction of this convent house was first backed in 1560 by Álvaro de Castro, councillor of state to King Sebastião as a result of a vow made by his father, João de Castro, who dreamed of building a modest place of worship on that site, dedicated to practices of contemplation and introspection. This convent, in which cork was applied profusely as a finishing and decorative material, was named the Convent of the Holy Cross of the Sintra Hills. The construction implemented the philosophy and ideals of the Order of St. Francis of Assisi: the search for spiritual perfection through shunning the world and renouncing all of the pleasures associated with earthly life.
Later, on the orders of Cardinal King Henrique, the convent received some improvement works.
In 1581, following the Portuguese defeat at the Battle of Alcácer-Quibir, Philip I of Portugal (II of Spain) visited the convent and proffered an affirmation that was to become renowned: "In all of my kingdom, there are two things that are much to my pleasure: the Escorial, for being so rich, and the Convent of the Holy Cross, for being so poor."
Throughout around two and a half centuries, the convent remained a place of worship and pilgrimage, inhabited by Franciscan friars, who the local population deemed "saintly men", that shared the philosophy expressed by this site. One of the notable friars in the history of this community was Brother Honório who, according to the legend, spent the final decades of his life in isolation, living off bread and water in a small cave in the convent's grounds, after having succumbed to temptation. However, in 1834, following the abolition of Religious Orders in Portugal, the convent was left abandoned before later being acquired by the 2nd Count of Penamacor who then sold the property to the 1st Viscount of Monserrate, Francis Cook, in 1873.
The monument was only acquired by the Portuguese state in 1949, by which time the convent's state of degradation was already advanced and increasingly difficult to reverse. At this stage, some prevention work took place on the site.
Integrated into the Cultural Landscape of Sintra, classified by UNESCO as World Heritage in 1995, the Capuchos Convent and its surrounding lands have been under the management of Parques de Sintra since 2000.
In 2013, the company embarked on a complex process of conservation, restoration and refurbishment of this monument, which was distinguished with a European Union Award for Cultural Heritage / Europa Nostra Awards 2022, in the Adaptive Conservation and Reuse category. Deploying a multidisciplinary team, the project focused on recovering all the set of buildings and their respective decorative features and enhancing the visit experience by developing different facets of this site.