The History of Cabo da Roca Lighthouse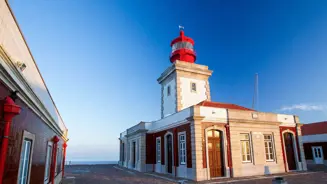 165 metres above sea level and standing 22 metres in height, the Cabo da Roca Lighthouse is the third oldest still in operation on the Portuguese coast.
The order for beginning construction was handed down in 1758 but with work only launching later, in 1772. In 1843, the lighthouse underwent major change with the installation of a new rotation device consisting of sixteen Argand light-bulbs with parabolic reflectors. Still later, in 1883, approval was granted for the installation of an electric light and with a sound warning system (a steam-mermaid device), which went operational in 1897.
Throughout the 20th century, the Cabo da Roca Lighthouse was subject to various interventions designed to modernise and optimise its operating performance. In 1917, the acetylene gas production unit was installed to supply the lighthouse system and, in 1932, the sound signal was replaced by a compressed air device. In 1937, a radio-lighthouse was installed before, in 1946, a new optical mechanism went operational before being replaced by a 3rd order device in the following year. In 1949, the lighthouse was hooked up to the national water network with electricity only supplied in 1980 but which then enabled the 1982 installation of an electric-mermaid device. In 1990, the lighthouse underwent automatization and with the closure of the acetylene gas production unit and with this deactivation process extending to the electric-mermaid (2000) and the radio-lighthouse (2001).
In 2017, the General Directorate of the Maritime Authority and Parques de Sintra signed a cooperation protocol for the management of the Cabo da Roca Lighthouse in order to leverage the potential for the utilisation, exploration and conservation of this area across the different facets of its natural and built heritage.