5 places that are even more beautiful in autumn
Sintra chimes with fog and rain, chimes with green, yellow, brown, orange and gold. Sintra chimes with autumn. Every season has its charms, but Sintra takes on an indescribable beauty in autumn.
Here are five must-see places here at this time of year: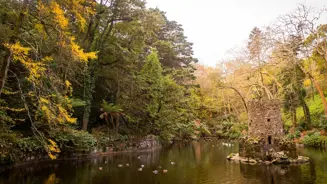 Valley of Lakes, in the Park of Pena:
This is one of the best-known areas of the Park of Pena. Everything about this area is magical: the lakes, the swans, the ducks, the waterfalls, the trees. In autumn, the Valley of Lakes becomes even more beautiful as the colours change: the paths become blankets of brown and orange leaves, and the imposing Ginkgo Biloba becomes even more beautiful in shades of yellow. All this against a green backdrop that continues throughout the year, creating a unique autumnal landscape.
The Beech Forest in the Park of Pena:
This place is so beautiful that it has already been mentioned in an article with recommendations for places to explore in summer. Located near the Tank of the Seven Pines in the Park of Pena, the Beech Forest is a masterpiece of nature that reaches the peak of its beauty in autumn. With the sunlight filtering through the beech trees, mixed with the autumnal tones of the forest ranging from yellow to red, this is a setting for enchanting moments and stories.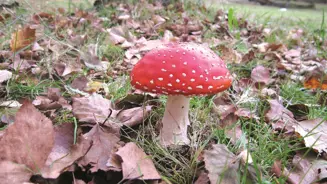 Garden of the Countess of Edla's Chalet:
If you visit the Park of Pena in autumn, don't miss the Chalet of the Countess of Edla and its garden. When you are there, after allowing yourself to be dazzled by the beauty surrounding you, take a look at the ground, where you will find the most beautiful mushrooms of all shapes and colours. A unique experience.
Convent of the Capuchos:
Imagine strolling through the hills with only the sound of birds and wind blowing through the trees, picking hazelnuts along the way. Is there anything more autumnal than hazelnuts in the Sintra hills? If you visit the Convent of the Capuchos and the woods that surround it in October, November and December, you are set for such a memorable day. And, of course, don't forget to visit the convent itself, which is an extraordinary monument set in the midst of nature. Can you imagine how the friars lived there on these colder days?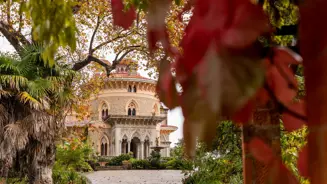 Scented Path in the Park of Monserrate
The autumnal colours of the Park of Monserrate are well worth a visit. The yellow, brown and red leaves that cover the Scented Path illustrate this season well, but the whole park is worth a visit at this time of year.