Learning, teaching and training activities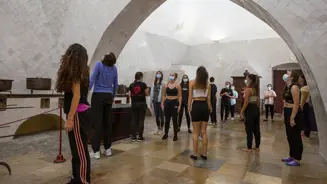 One of the most important activities of this project were the dance workshops. MeetShare Dance directed eight dance workshops with pupils from Agrupamento de Escolas Monte da Lua and LXXXVI Liceum Ogólnokształcące im. Batalionu "Zośka". Hosted by the National Palace of Sintra and the Palace-Museum of King Jan III in Wilanów, these dance workshops focused on the connection between a pupil and the palace, bridging history with the present.
Two groups of pupils, with and without dance background, worked at learning how to approach history in a different way. Together with MeetShare Dance, pupils discovered how dance can offer new ways of experiencing art and heritage. Also, the palace staff explored new ways on helping audiences to engage both intellectually and viscerally with heritage sites.
Each workshop began with a warm-up and continued with a study of the physicality, body textures, and imagery related to specific artworks and spaces in Sintra and Wilanów Palaces. Pupils were then invited to reflect upon their own relation to the artworks and the space through the lens of specific themes: Memory, Nature, Body, Senses and Power. Finally, they embodied their own expression of that reflection, solo, in a pair or in small groups.
By creating their own dance movements within the space of the palaces, pupils perceived the heritage sites from different perspectives, building connections with the palaces' history, and hence developing a stronger awareness of the importance of heritage preservation. They also developed other skills, such as better communication within the team, more self-confidence and a higher critical thinking approach.
Project Erasmus+
Learn more about other activities