Open for Works - Find out what works are taking place on the monuments
The 'Open for Works', concept was implemented in 2006, an initiative that allows visitors to closely witness the ongoing safeguard and recovery work, favouring dialogue with the specialist technicians involved. These works can sometimes involve some constraints.
Learn about the works that are currently being conducted on Sintra's monuments.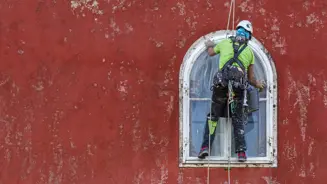 National Palace and Gardens of Queluz
Work at the Royal Chapel until the end of November of 2023.
New garden temporarily closed
National Palace of Sintra
Constraints on the courtyard due to public infrastructure works.
Greenhouse Patio closed for works until the end of July.