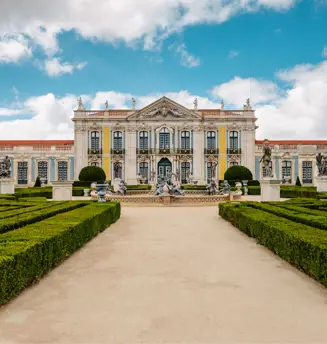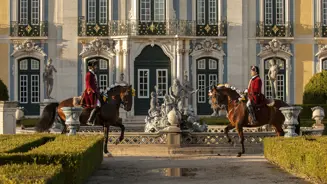 Built during the reign of D. João V, the Palace and Gardens of Queluz had their golden period in the 17th century, during the reign of King Pedro III and Queen Maria I. Known by the sophisticated social events, the Palace and Gardens of Queluz welcomed the court in a refined and beautiful environment, which was a reflex of the French and Italian influences of the time.
The Portuguese School of Equestrian Art is based at the gardens of the Palace, created to promote the teaching, practice and promotion of the Portuguese traditional Equestrian Art. In 2015, PArques de Sintra created in the National Palace of Queluz the only national library dedicated exclusively to equestrian art. The D. Diogo de Bragança equestrian art library, 8th Marquis of Marialva, contains 1,400 titles, some of which are rare editions.
On this exciting adventure through history, this visit leads to the discovery of the Queen Amelia Stables, which has an exhibit room where the history of the School is told. There will be time, as well, to attend the activities of the groomers and to get to know the School horses. It is, also, possible to attend the daily practice at the riding ring of the gardens of the Palace.