Event Venues | Portuguese School of Equestrian Art
Intimately bound up with the traditions and customs of the 18th century Portuguese court, the Portuguese School of Equestrian Art provides a return to this past on a veritable journey through time at the pace of the elegant and precise "dance" of the thoroughbred Lusitano horses bred by the Coudelaria de Alter stud farm.
Headquartered in the Gardens of the National Palace of Queluz and with regular presentations in the Henrique Calado Riding Ring, on Calçada da Ajuda (Belém), the Portuguese School of Equestrian Art stands out as national heritage and endowed with the objective of promoting the teaching, practice and global dissemination of traditional Portuguese equestrian art, a unique cultural heritage.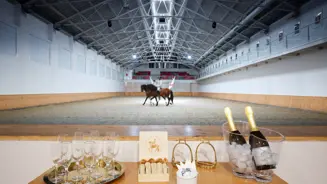 Nora Patio
This is where the the stables and the outdoor riding ring are located and also where the riders warm-up and exercise the horses. The Nora Patio also encompasses a farriery workshop, the saddle room and an interpretation room, where the history of the School is presented in diferent mediums.
Capacity: 60 pax sitting| 80 pax standing
Accessibility: Accessible to people with mobility restrictions.
Characteristics: Access to the stables; it is possible to attend the daily trainings.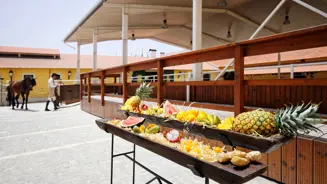 Henrique Calado Riding Ring
With a sitting capacity of 282 people in the stalls and 30 seats in the VIP box, a cafeteria and a store, the main riding ring is perfect for an exclusive and memorable Equestrian Gala.
Capacity: 20 pax sitting | 30 pax standing
Accessibility: Access through stairs
Characteristics: It is possible to attend the daily trainings and the exclusive galas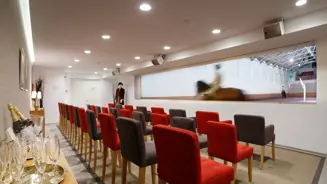 Would you like to know more about this venue? Contact us:
Event Venues
Discover other available venues