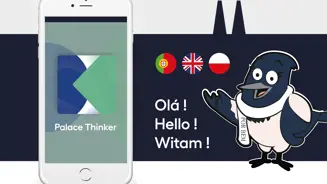 The Palace Thinker app-game was developed within the scope of the project "Between Mnemosyne and Terpsychore - Heritage Sites and Contemporary Dance for the promotion of critical thinking among pupils", part of the European programme Erasmus+, and aiming to be a tool for cultural mediation.
Divided into five challenges, the app offers activities that involve interaction with various spaces in the National Palace of Sintra, making use of augmented and virtual reality to identify specific elements within the rooms, to analyse aspects of the functioning of the building, and to determine the role the palace has had on the surrounding territory.
Created within the scope of the aforementioned project involving the National Palace of Sintra and the Wilanów Palace-Museum, this app was also conceived as a mediation tool to visit the two palaces simultaneously. Users can thus move from one palace to the other by opening a portal in the room where they are located.