Queluz by candlelight (SOLD OUT)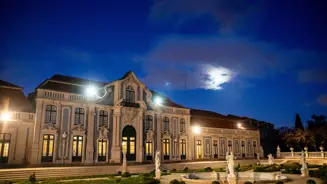 New
Parques de Sintra celebrates the European Heritage Days of 2021 with the event "Queluz by Candlelight", a night opening of the gardens of the National Palace of Queluz on Saturday 2 October, from 8 pm to midnight.
Visitors will be invited to embark on an immersive experience to discover the main points of interest of the historical gardens of the National Palace of Queluz, through lighting and animation that will evoke the atmosphere of the night parties that characterized the experience of this Palace in the century XVIII.
To the magical atmosphere conferred by around one thousand LED candles and other forms of lighting along the route, there will be moments of entertainment, with music, which has always been an indispensable presence at the court, and equestrian art, which the Royal Family greatly appreciated.
Programme
8 pm: Opening
8:30 pm: Presentation of the Porguuese School of Equestrian Art by the Grand Cascade (duration: ca. 20 minutes)
9 pm: Voice and piano recital by Nádia Fidalgo and Melissa Fontoura in the Cafeteria of the National Palace of Queluz (duration: ca. 1 hour)
10:10 pm: Presentation of the Portuguese Schoo, of Equestrian Art by the Robillion Staircase (duration: ca. 20 minutes)
11:00 pm: Last entrance in the gardens
00:00 am: Closing of the gardens
Queluz by Candlelight - program
Find out what surprises await you along the candlelit gardens