200 years of "Don Giovanni" in Brazil – The first performance of the "opera of all operas" outside Europe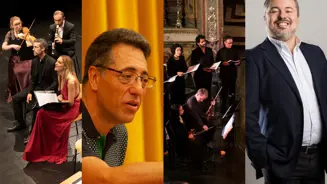 New
This concert is part of the celebration of the 200th anniversary of the first performance, in Brazil, of one of the most important artistic creations of Humanity: the opera "Don Giovanni" by W.A. Mozart, presented in Rio de Janeiro on September 20, 1821.

The program includes two masses for string orchestra and choir: Mozart's Missa Brevis, in F Major, and the modern world premiere of a mass by Sigismund von Neukomm. This Austrian composer, born in Salzburg, worked in Rio de Janeiro under the Portuguese regency of Brazil, with D. Pedro IV, and contributed greatly to the introduction of Mozart's music to the South American continent.

Produced by Parques de Sintra and Divino Sospiro, this concert is performed in collaboration with the Mozarteum in Salzburg, the Música Brasilis Institute in Rio de Janeiro, the Don Juan Archiv center in Vienna and the Fundação da Casa de Mateus, and will be part of an online event on September 20, which will include the streaming of a concert from Vienna and contributions from all countries involved.
Program
Wolfgang Amadeus Mozart (1756-1791)
Missa Brevis in F Major, KV 192
Kyrie
Gloria
Credo
Sanctus
Benedictus
Agnus Dei
Sigismund Neukomm (1778-1858)
Missa sub titulo Sancti Johannis / Messe de St. Jean (modern world premiere)
Kyrie
Gloria
Credo
Sanctus
Benedictus
Agnus Dei
Musicians
DIVINO SOSPIRO
Violins: Iskrena Yordanova, Paolo Perrone, Gabriele Politi, Elisa Bestetti, Raquel Cravino, Enrico Gramigna
Cellos: Rebeca Ferri; Fernando S. Garcia
Bass: Pedro Wallenstein
Organ: Sérgio Silva
AMERICANTIGA ENSEMBLE
Sopranos: Solange Anorga, Sara Afonso, Susana Duarte
Altos: Maria Gil, Joana Fonseca, Arthur Filemon
Tenors: Márcio Soares Holanda, João Pedro Afonso, João de Barros
Basses: Rui Bôrras, Pedro Morgado, Luís Neiva
MUSIC DIRECTION
Massimo Mazzeo
Ricardo Bernardes