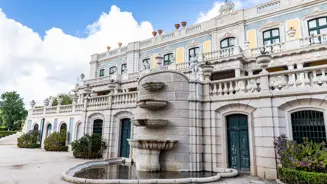 Completed in 1779, the Shells Cascade stands against the wall of the terrace of the Robillion Pavilion, below what is now the cafeteria terrace of the Palace of Queluz. It was designed by Jean-Baptiste Robillion and carved from a single piece of lioz limestone by the master sculptors Filipe da Costa and Manuel Alves. It has four basins which give the group its cascade effect and allude to silverware motifs that were commonly found on silver platters. These motifs relate to Robillion's first role in the court of King Pedro III, in 1749, as a pupil of the renowned French silversmith Thomas Germain.
From 8 August 2022, the Shells Cascade is undergoing conservation and restoration works, due to signs of localised deposits of dark limestone concretions, causing the blackening of the stone material, as well as biological colonisation on the back wall and in the basins of the cascade. This intervention is expected to last 1 month and, as is usual in Parques de Sintra, is being carried out in full public view, without hampering visits to the Gardens of the Palace of Queluz.
A favoured recreational space for the Portuguese Court and of great value in terms of landscape and heritage, the Gardens of the National Palace of Queluz are among the most important historical gardens in Europe. The conservation and restoration intervention carried out on all integral elements, as is the case with the Shells Cascade, falls under Parques de Sintra's mission to safeguard and enhance the cultural and artistic heritage in its care.
Planned works
Photographic records of all phases, with a view to assessing the state of conservation of all the elements prior to the intervention, during the works and after their completion.
General cleaning of the surfaces by means of controlled pressure washing and the application of a biocide solution. Precision washing of the backs of the basins to remove less firmly attached deposits.
Cleaning and removal of concreted deposits using precision micro-abrasion. Various abrasives will be tested in order to select the most suitable (aluminium oxide of various granulometries and silica flour, among others).
Refilling of joints where required and micro-fillings. Joints showing signs of deterioration or which pose a risk to the watertightness of the basins will be the target of cleaning and refilling, and sealed with water-repellent hydraulic mortar.