What is there to do in Sintra on rainy days?
Sintra is known for its microclimate. Regardless of the time of year, rainfall and humidity levels are higher than the rest of Greater Lisbon. When the Rossio train arrives at Sintra station, there are many who leave in sneakers, shorts, a backpack and… an air of disappointment stamped on their faces when they see the dark clouds in the sky, the wet and slippery pavement and the dense fog above the Pena Palace and the Moorish Castle. But in reality, there's a lot to do in Sintra, even on rainy days. Here are two suggestions.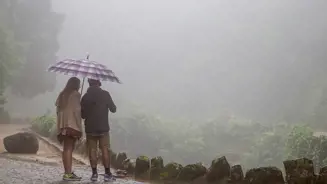 Visit the National Palace of Sintra: You don't need to take a long walk to reach the Town Palace, as it's known by the locals. As soon as you leave the train station, look up at the sky and you'll see two large chimneys. They are the defining feature of Sintra and the hallmark of this palace. This route can be covered on foot, in about 15 minutes.
The first references to the Palace of Sintra appear in the 10th century, when Sintra was still an Islamic territory. In fact, this building that we know today is made up of several royal palaces - is a set of buildings that were built, added to and adapted over more than 1,000 years of history!
There's a lot to discover in this monument. Visitors get familiar with the chambers of several Portuguese kings, understand how a royal palace was divided and find unique objects of incalculable value.
The palace is located in the heart of the town of Sintra, so when you've finished visiting it, you can take the opportunity to discover the historic centre or, weather permitting, set out on an adventure by heading up the mountains to discover other monuments.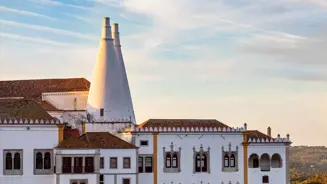 Visit the National Palace of Queluz: The magic of Sintra is not limited to what can be found in the historic centre or up in the mountains. Right at the beginning of the municipality, about 20 minutes from the centre of Lisbon, it's possible to visit what was, for a time, the official residence of the Portuguese Royal Family.
Visiting the Palace of Queluz on a rainy day is an excellent choice, not just for all that the monument has to offer, but also for logistical reasons: it's possible to park at the door (there are several options if you're coming by transport) and enter the palace directly, without having to go through the gardens (which must be visited as soon as a ray of sunlight appears. They really are worth it!).
The beauty of the royal apartments, the scale of the large state rooms, the shine of the exposed porcelain, the history that was lived there make the National Palace of Queluz one of the unmissable places in Sintra.