3 places to visit in Sintra with your better half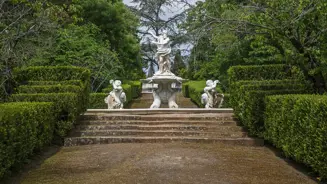 Known as the Portuguese capital of Romanticism, an aesthetic, artistic and philosophical movement that spread throughout Europe in the late 18th century and throughout the 19th, Sintra is a place with many romantic corners for couples to share.
If you are planning a trip to Sintra for two, here are some suggestions:
The Chalet of the Countess of Edla: inspired by typical Alpine chalets, this building was the result of the great love between King Ferdinand II and Elise Hensler, the Countess Edla, who were behind its conceptualisation. Here they had some of the happiest moments of their lives. After discovering the interior of this picturesque house, let yourself be carried away by the romantic gardens that surround it.
The National Palace and Gardens of Queluz: spend a day like true princes and princesses in one of the most majestic of Portuguese palaces. All visitors will be impressed by the grandeur of the ballrooms and by the luxury of the royal quarters. At the end of your visit, visit the palace's beautiful gardens. The coolness of the water features and lush green groves create the perfect setting for a stroll for two.
The Palace of Monserrate: this looks like a palace out of 'The 1001 Nights', but it's actually the masterpiece of a wealthy 19th-century English industrialist. Regardless of its origin, the Palace of Monserrate transports us to a place of authentic enchantment, which, of course, has another level of beauty when experienced as a couple.