1 November: the earth also shook in Sintra on All Saints' Day
1 November is All Saints' Day, a public holiday in Portugal and a celebration of all the Catholic saints and martyrs. According to records that have survived to the present day, the origin of this celebration dates back to the 7th century, under Pope Boniface IV.
In relation to Sintra, the chronicler Damião de Goes wrote that between October and December 1498, King Manuel I passed through the Palace of Sintra and organised great festivities for the Holy Days.
'On Sundays and Holy Days (...) He often ordered bullfights to be run and a type of jousting. So that the noblemen wouldn't spend too much of their [material goods] on these games, he would lend them Moorish implements and clothes to use. At times he participated in the jousting game, which he played very well and very gracefully. His arms were so strong that besides being very good on horseback, he threw a lance or a spear with such dexterity that no other man could beat him,' writes Damião de Goes.
Although there is no direct reference to All Saints' Day in this passage, it is plausible that it was this date being marked at this time in the Palace of Sintra.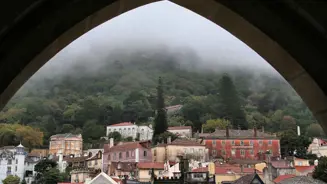 Two centuries after this testimony – 257 to be precise, in 1755 – an earthquake destroyed almost the entire city of Lisbon. This was followed by a tsunami and several fires. The earthquake is estimated to have reached a magnitude of between 8.7 and 9 on the Richter scale. While it is impossible to precisely calculate the number of dead, according to the Lisbon Earthquake Museum website, 'most studies agree that the death toll was most likely between 12,000 and 40,000,' at a time when the capital had around 200,000 inhabitants.
The earthquake was also felt in Sintra. 'In the town of Sintra, the Collegiate Church of St Martin fell, killing its prior (...) and 24 other people. The same happened to the Church and House of Mercy. The Royal Palace of the town was badly ruined, except for the beautiful House of the Nobility's Armoury, built by King Manuel and renovated by King João V. (...) 73 people died in this town.' So wrote Joaquim José Moreira de Mendonça, author of the Universal History of Earthquakes in 1758, three years after the great earthquake.
Later, António Dâmaso de Castro e Sousa, better known as Abade de Castro, detailed the damage caused by the earthquake to the Palace of Sintra: 'The earthquake of 1 November 1755 seriously ruined this Palace, and especially this room (Swans), which was repaired by order of King José; much of its old architecture deteriorated on this occasion: as can still be seen from the plan drawn by Duarte d'Armas [last image]', he wrote in 1838 in his work Palace of Sintra, Monastery of Our Lady of Pena and Castle of Sintra.
  Also on 1 November, children traditionally go door-to-door asking for 'Bread-for-God', receiving bread, nuts, pomegranates, sweets and 'a few coins' in return.  In some parts of Portugal, this day is known as 'Little Cake Day'. In 1756, a year after the earthquake, the tradition continued in Lisbon and everyone took to the streets to ask for 'Bread-for-God'.