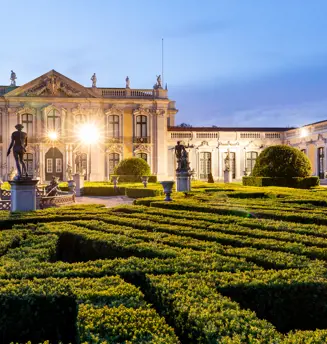 Summer in Queluz - Baroque Music at Nightfall
Live music returns to National Palace of Queluz, celebrating the arrival of summer with two unique concerts. "Summer in Queluz - Baroque Music at Nightfall" marks the arrival of the season, which, in this palace, was enjoyed by the Royal Family in the most festive way possible, with music and fireworks.
In the first concert - which, initially, was broadcast online, in March this year, due to restrictions imposed following the COVID-19 pandemic -, the "Cosmopolitism of the Portuguese Baroque - Cultural and Aesthetic Ties between Italy and Portugal" are celebrated. This concert – interpreted by the soprano Eduarda Melo and the Divino Sospiro orchestra - evokes not only great Portuguese composers, such as Carlos Seixas and Pedro Antonio Avondano, but also two of the greatest names in Italian baroque music - Antonio Vivaldi and Domenico Scarlatti -, praising the close relationship between the music of both countries and the strong Italian influence on Portuguese composers.
The concert "Muses of the Seicento", performed by the Ensemble Gli Accenti, introduces us to women who dedicated themselves to music in the 17th century. This show will take us on a journey aimed at discovering the female soul, through the compositions of Elisabeth Jacquet de la Guerre, Isabella Leonarda and Barbara Strozzi.
"Summer in Queluz – Baroque Music at Nightfall" is a joint initiative of Parques de Sintra and the Centro de Estudos Musicais Setecentistas Portugueses (CEMSP), which has collaborated in the recovery of the immaterial memory associated with the National Palace of Queluz, which program is integrated in the European Early Music Network (REMA).
Safety is our commitment
Parques de Sintra signed up to the Turismo de Portugal initiative and has obtained its "Clean & Safe" seal, which ensures compliance with safety procedures for the prevention of Covid-19.
Music
Summer in Queluz - Baroque Music at Nightfall