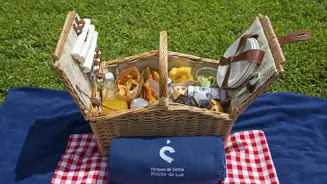 New
During the second half of the 19th century and the first decades of the 20th century, Monserrate was the summer residence of the Cook family who, according to English tradition, used to have delicious picnics on the lawn in front of the palace.
With the Picnic Days, scheduled for several dates throughout this summer, Parques de Sintra aims to recover those experiences and enable the public the visits this historical garden today to create new and contemporary memories, that hold the essence of the original experience.
Don't miss this opportunity to experience the historic garden of Monserrate in a unique way, in full communion with nature!
Collection and return of your Picnic Basket:
Location: Monserrate Tea House
Collection time: between 11am and 1pm
Return time: until 4.30pm
It is necessary to pay a deposit of €60 (through ATM), which will be reimbursed after the return of the material (basket, towel, blankets and utensils).
Designated picnic site:
The lawn in front of the palace