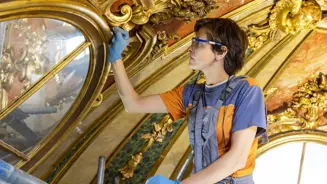 The comprehensive conservation and restoration project for the Royal Chapel of the National Palace of Queluz encompasses an array of techniques aimed at ensuring the space can be better enjoyed, while also reintegrating the 18th-century pipe organ, which is returning to its original location after more than 100 years.
This instrument, made by Machado and Cerveira, is also under restoration. It is thought to have originally belonged to the Bemposta Palace and to have been brought to Queluz in 1778. Installed in the Chapel's Upper Choir, it remained there until 1916, when it was completely dismantled. Only its front was left on the right side of the Upper Choir, but even that part of the instrument was removed in 1988, leaving the Chapel without any trace of the organ until today.
To install this instrument – which has 2428 pipes in total – a space must be created to house all its mechanics, requiring the renovation of the event support room located on the lower floor of the Chapel.
The Royal Chapel is one of the oldest rooms in the National Palace of Queluz and, as a space dedicated to contemplation and religious celebrations typical of its time, it was the venue for small royal ceremonies and private masses of the Royal Family. It was designed by the architect Mateus Vicente de Oliveira in the 18th century and embodies the typical features of its author: colours, light, the use of the dome in such a small space (an element always present in the religious buildings he designed) and forms.
The altarpiece by André Gonçalves in the chancel depicts Our Lady of the Conception, the patron saint of Queluz; and the panels of the side altars, alluding to Saint Francis of Paola and the imprisonment of Saint Peter and Saint Paul, were painted by Pedro Alexandrino.
As part of this project, all the decorative panelling will be conserved and restored. The project also includes restoration of contiguous spaces such as the Sacristy, the adjacent rooms, the private areas of the upper floor and the connecting areas between the two floors with the aim of improving visitor experience of the Palace.
Work to be carried out during the project:
Structural works (intrados and extrados of the ceilings)
Restoration and treatment of decorative panelling:

Polychrome wood panelling
Wood panelling covered in polychrome canvas
Gilded wood carvings
Tiles
Figurative painting on canvas

Restoration of interior and exterior openings
Treatment of metal features
Treatment of stone materials – flooring, holy water basins and Sacristy washbasin
Treatment of wooden floors
Architectural and civil construction work in the Chancel and Upper Choir, the Organ Room, the Bellows Room and the Event Room in order to reintegrate the pipe organ.