The death of Queen Maria II – The end of a true love story
Fairy tales have things that everyone wants – happy marriages, prosperous kingdoms, unattainable ideals of beauty, harmony and happiness, and stories of eternal love around every corner. Then the lessons of history destroy these fantasies and reveal to us the stark reality: marriages of convenience, miserable kingdoms, execrable figures, wars and misfortune everywhere, and stories of eternal suffering around every corner. Yet there are exceptions to the rule – at a time when royal marriages remained mere contracts, regardless of the couple's happiness, Queen Maria II and King Ferdinand experienced a true love worthy of an enchanting tale. And it was Ferdinand who suffered the most when his beloved departed on 15 November 1853, 170 years before the publication of this text.
First, let's go back to the happy times. Maria II, Queen of Portugal, married Ferdinand of Saxe-Coburg and Gotha in 1836. The wedding was like many other royal weddings: the marriage contract was signed in 1835, the wedding took place by proxy in Coburg at the beginning of 1836, and then in person in Lisbon in April of that year. Yet the couple hit it off right from the start. 'It seems that I already like him without knowing him; it seems from the information I have about him that he will be as dedicated to the happiness of the Portuguese nation as to mine,' wrote Queen Maria II to the Count of Lavradio.
The king and queen experienced 17 years of happy marriage, loving each other deeply. When they were apart, they sent each other letters with flowers. 'I hope these arrive well, just like the other little flowers I picked for you,' reads one from Ferdinand. A love like this gave rise to a happy family, and at home much of their time was devoted to their children, both their education and their leisure time spent in nature.
When it came to leading the country, Maria II also relied on her husband's help to resolve difficult issues: 'I confess that this idea appeals to me and, if you agree with it, perhaps I will be able to take some steps in this direction, answer me quickly in this regard,' reads a letter sent to Ferdinand in the very open tone typical of a couple who understand each other perfectly.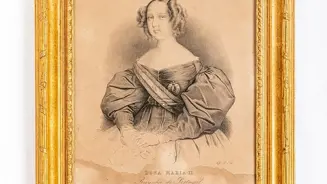 This love bore fruit: the Queen fell pregnant 12 times and gave birth 11 times. On several occasions, the Queen suffered complications during labour, but this didn't deter her: 'If I die, I die at my post,' she used to say. With advancing age and weight gain, the complications worsened and, in 1853, when it became known that Queen Maria was pregnant again, many people expressed their concern. Everyone around her warned her that she needed to rest, but the queen never stopped going to the opera, the theatre and doing another thing she so loved: coming to Sintra for the summer. By this time, King Ferdinand had already bought the former Royal Monastery of Our Lady of Pena to restore it and make it a summer residence. 
The truth is that on 14 November 1853, the Queen went into labour and things got complicated – 'It's nothing like the other times,' she claimed. The following day, at around 11.30am, she signalled that she wanted to rest, 'rested her head on the pillow and breathed her last.' It was then that Queen Maria II, aged just 34, and her 11th son, Eugénio, were declared dead.
'King Ferdinand watched the tragedy from his post, "leaning on one of the bed's balustrades, letting his tears fall onto the bed and contemplating the sad scene." Someone witnessed the moving quarter of an hour in which he embraced his dead wife in shock. The princes wept uncontrollably, overwhelmed by events.' So describes the book 'D. Fernando II: Rei-Artista, Artista-Rei'.
'Of her reign, the 1838 Constitution and its Oath stand out, which resulted from a compromise between the liberal theses of the 1822 Constitution and the more conservative theses expressed in the Constitutional Charter of 1826, which had given rise to the bicameral system with the creation of the Peerage. Drafted and decreed by the Constituent Assembly, elected in the wake of Septemberism, this constitutional text once again enshrined the democratic principle, independence and the tripartite division of legislative, executive and judicial powers, as well as replacing the Peerage with the elected Senate,' reads the Portuguese Parliament's website.
Queen Maria II never lived in the Palace of Pena, the refuge built with so much love by her husband. For many years, Ferdinand lived with great bitterness: 'these great affections, when broken, leave a terrible void and a pain that is difficult to heal,' he wrote in a letter to Queen Victoria of England, his cousin. With all the emotions, adventures and unexpected events that make up real life, a true love story had come to an end.