Portrait of a Young Nobleman: a Knight of the Order of Calatrava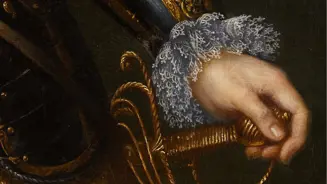 This richly illustrated publication provides the necessary vision of everything surrounding the history of the portrait, furthermore explaining the reasons behind particular affirmations, interpretations and hypotheses. The associated research and studies have enabled an approximation to this portrait based upon different perspectives and contexts and thereby achieving the objectives set for the project, in particular:
Confirming this as the work of Juan Pantoja de la Cruz;
Identifying the person depicted in a conclusive fashion based upon the relationship with another identical and already identified portrait by Pantoja de la Cruz;
Detailing the family ties of the figure portrayed with the Portuguese and Spanish nobility and royalty through genealogic study;
Proposing a date, location and context for the production of the painting;
Analysing the portrait from the iconographic point of view in keeping with the events surrounding its commissioning and the portrait codes prevailing at that time;
Restoring part of the memory of portraits circulating prior to the entry into the collections of the Royal House and correspondingly conveying the ties between these works and European collectionism of the second half of the 19th century;
Reconstituting the chronology underlying the acquisition process and the means of the painting's arrival in Portugal;
Identifying the participants in the acquisition process as well as the date, location and price of purchase;
Confirming the role of Queen Maria Pia as key to bringing about this purchase;
Setting out the reasons behind the incorporation of the painting into the royal collections as the "Portrait of King Sebastião".
The first edition in the 'Collections in Focus' series counted upon the collaboration of the Norton Simon Museum (Pasadena, California) and the Prado National Museum (Madrid).